Jolin went to see Les Misérables (the musical) in London, she was shocked to see that one of the characters, Fantine, was played by a Korean actress: "It turns out that Asians can also stand on the international stage, sing and act for foreigners to listen!"
The day after she bought the original book by Victor Hugo. She also made an "Internet homework list" of musicals that includes The Phantom Of The Opera, The Drowned Man, The Book Of Mormon, War Horse and Billy Elliott.
Since musicals are inspiring her, it's been reported that Jolin's upcoming album will be opera* themed!
But in the first place Jolin is in London to attend 4 weeks of advanced classes (breath, body, voice, yoga and spiritual improvement). There are 18 students from 10 countries in her class, and she's the only Asian. None of them knew who she was. But Jolin got recognized in London by Chinese fans and even by an Italian who saw her at Taiwan Night in Paris back in January! Jolin rented a flat for a month, she has school five days a week and six hours a day.
Click on the picture below to access pictures of Jolin in London!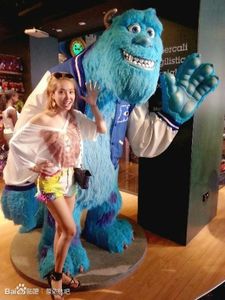 *Definition by wikipedia:
Opera is an art form in which singers and musicians perform a dramatic work combining text and musical score, usually in a theatrical setting. Opera incorporates many of the elements of spoken theatre, such as acting, scenery, and costumes and sometimes includes dance. The performance is typically given in an opera house, accompanied by an orchestra or smaller musical ensemble.