Well, Jolin's birthday is on September 15th, but she will celebrate with fans a week before! The last time Jolin held a party like that it was in 2011 at Riverside Music Cafe in Taipei (pictures HERE).
This year it will be in Tainan, and in order to increase privacy, the location will only be revealed on the special invitations! Only 65 lucky fans will be able to attend this party.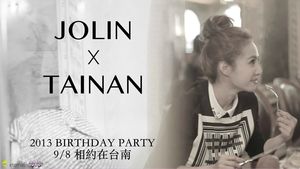 Time: September 8th, 1:00 pm
Location: Tainan (details specified in the invitation)
Fee: 700 yuan (includes drinks) [700 yuan = 17€48 or $23.37]
Activities:
-Tea time with Jolin
-Interactive games with Jolin
-Tasting dishes cooked by Jolin herself
-Some fans will have the opportunity to get a Polaroid picture signed by Jolin
Registrations will start on August 14th.