First of all, let's all wish a happy birthday to Jolin who celebrated her 31st birthday today!
Before leaving for her JOLIN LIVE PARTY, she had an intimate birthday party with friends: we can see her sister I think on her right, or her manager Chen Ze-Shan. Show Luo is not here, I think it's because he's right now touring in the USA (he has like 3 or 4 dates there if I'm not mistaken).
Then she came at the JOLIN LIVE PARTY concert dressed as Wonder Woman!
I know I said earlier that she was supposed to come dressed as an Angry Bird, but actually it was a misunderstanding. Here's the actual story (source: cpopaccess):
In regards to the media saying that Jolin looks like an "Angry Bird" off stage, Vivian (Dawson, her boyfriend) defended, "(She) doesn't look like it at all."
As for the media suggesting Jolin to dress as an Angry Bird, he laughed, "That won't be good."
She really dressed herself as an Angry Bird in response to the media but only on her Weibo.
Anyway let's go back to JOLIN LIVE PARTY, she dressed as Wonder Woman!
Her Barbie birthday cake:
Her friend Maggie came too to the party:
Her fans offered her a Hello Kitty bikini as a birthday present XD
Click on the picture below to access the photo album.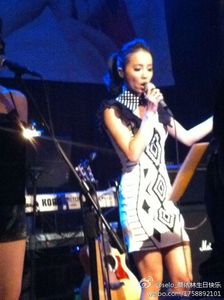 Video:
A couple of seconds of Baby in this video:
Full tracklist (according to Appledaily she sang 12 songs).
Songs' links are not fancams but the original versions of these songs.
陳綺貞 還是會寂寞 Cheer Chen - Still lonely
說好的幸福呢 Jay Chou - Promised Happiness