Last week, Jolin rehearsed a choreography for a new MV with French choreographer Yanis Marshall and assistant Erwan Sands (I talked about it HERE).
Check the picture below, it has been taken on the first day of rehearsals (Jolin wasn't there on that day). Choreography in high heels!!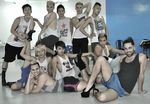 The week ended with the MV shooting!
Jolin's album will be released on September 14th.
By the way, don't forget Jolin's concert in London! Tickets will be on sale starting from August 17th!