Tickets for the concert in Beijing (July 11th) are on sale now, and thanks to this we have more info about the Tour:
→ Concerning choreographies and costumes, it's the first time Jolin is collaborating with an international team. The designer has already worked with Beyoncé and Katy Perry (I wonder if the costumes have been designed by The Blonds...)
-→ The Tour will convey the album's concept, that life is a stage. According to Jolin, we experience different roles in life, and even if we don't play the one we wanted, we can still rewrite our story. Jolin also hopes to push all the negativity away and to bring optimism and positivity to the audience
-→ The concerts will be divided into several themes inspired by Hollywood movies such as "Broadway Troupe", "Greek Goddess", and others
→ A setlist from Bejing Municipal Bureau of Culture has been floating around* and it's basically confirmed since the article mentions Prague Square, Rewind, 36 tricks of love, The Third Person And I and PLAY
→ Agent J and Dancing Diva are among the tracks which will get a rearranged choreography
→ The directors of the Tour are Travis Payne and Stacy Walker who have already collaborated with Lady Gaga and Michael Jackson
→ 12 dancers will accompany her on stage
-→ Aside from Travis and Stacy, 14 top dance teachers from Europe, America and South America have been invited "to create a crazy dance style".
* Setlist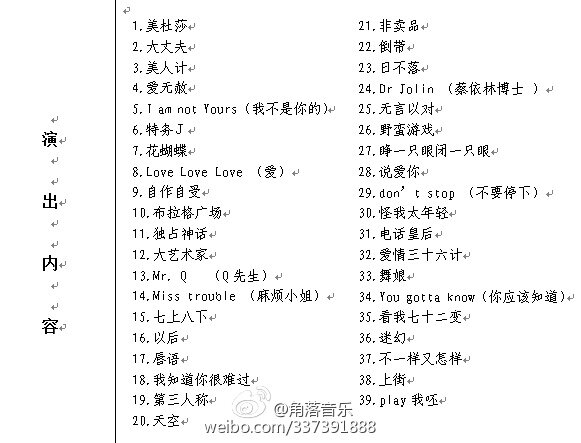 English titles
1. Medusa
2. Real Man
3. Honey Trap
4. Bravo Lover
5. I'm Not Yours
6. Agent J
7. Butterfly
8. Love Love Love
9. I Love, I Embrace
10. Prague Square
11. My Own Legend
12. The Great Artist
13. Mr Q
14. Miss Trouble
15. Butterflies in my stomach
16. Afterwards (new song)
17. Lip Reading
18. I know you're feeling blue
19. The Third Person And I
20. Sky
21. Priceless
22. Rewind
23. Sun Will Never Set
24. Dr Jolin
25. Nothing left to say
26. J-Game
27. Overlooking purposely
28. Say I Love You
29. Don't Stop
30. Blame it on the age
31. Phony Queen
32. 36 tricks of love
33. Dancing Diva
34. You gotta know
35. Watch my 72 changes
36. Fantasy
37. We're All Different, Yet The Same
38. Out on the street
39. PLAY