This week Jolin was in Paris and went to Cartier exhibition "Cartier : le Style et l'Histoire" ("Cartier: Style & History") at the Grand Palais. Jolin wanted to see the crowns, she likes indeed the history of old nobility. She also learned that Cartier has done clothing and bags besides jewelry!
Click on the pictures below to enlarge!
She also posted a picture on her Instagram on January 15th (click to enlarge):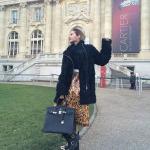 By the way, my hopes are crushed, Jolin was just in Paris for a magazine photoshoot...