So Jolin is nominated in 4 categories at the 24th Golden Melody Awards:
-Song of the Year: The Great Artist
-Album of the year: MUSE
-Best Female Singer
-Best MV: The Great Artist
Her last nomination for Best Female Singer, which she won, was in 2007!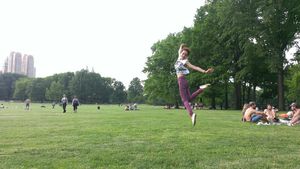 Jolin in New York
Jolin is right now in New York, she said she was very happy, she put a lot of effort into completing MUSE. It was inspired by her life and she likes the songs in it, she's glad that everyone likes it. Ceremony will be held in Taipei on July 6th!