Yesterday Jolin celebrated the "Tzu Chi Day"* organized by the Tzu Chi Foundation at the Chiang Kai-shek Memorial Hall!
She was there with her mom, her aunt, her sister and her brother-in-law (you can see them in the pictures). Jolin said that no matter how busy she was, every year on Mother's Day she would accompany her mother.
Click on the picture below to access the photo album in the gallery!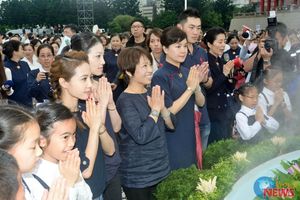 *"Every year, on the second Sunday of May, Buddha's Birthday and Mother's Day (as recognised in Taiwan) coincide, forming the so-called "Tzu Chi Day". Usually on Buddha's Birthday, Buddhists bathe the Buddha but Tzu Chi believes that it is the people that needs cleansing to be able to be good individuals." (Source: wikipedia)
News report