It was yesterday in Guangzhou, Jolin was one of the judges!
The winners:
Swag Monster Crew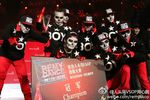 Jolin also sang several songs on stage: Agent J, Pretence, Dancing Diva, Rewind, The Great Artist and Dr Jolin. Check the videos below!
Click on the picture below to access the photo album in the gallery.