On December 20th Jolin injured herself during rehearsals for her Taipei concerts (held today and tomorrow). She fell from one meter high and suffered some minor injuries including "nerve injuries", as a consequence her left foot and hand are numb and she can't hold the microphone properly. Jolin still wants to proceed with the rotating pole stunt but it might be pushed to the second day of the concert.
She posted on her Weibo "Don't stop, never give up" (reference to Don't Stop that she released in the early days of her career).
Picture posted by Jolin on her Instagram with the message "Doomsday Mark!"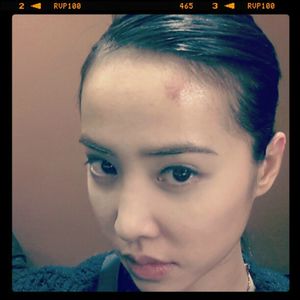 Thanks to carrotie for partial translation!