Warner just announced it on their Facebook page, 我/I MV will be revealed on Monday at 10:00 am Taiwan time!
Jolin shared another picture of the MV on her Weibo this time.
And Warner posted a promo picture.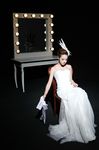 EDIT:
The director is Fu Tianyu (she directed the movie Somewhere I Have Never Traveled), she won a few awards including the Golden Bell Award for Best Screenplay!
It's a black and white MV, I remind you that Jolin wanted the upbeat songs' MVs to be colorful, and the ballads' MVs to be in black and white.
The MV's story is very close to 我's lyrics (now I'm really looking forward to a translation, Carrot if you read me lol). Jolin is crying for real in the MV! She cried so much that she used three tissue boxes during the shooting, and the director made fun of her because of her "panda eyes". Jolin actually decided to remove 我/I from her Tour's tracklist because she was afraid of crying every time she would sing it and as a consequence afraid of always doing a "bad" performance as well.
Her fans really hope that she will sing it in the Taipei concerts but she's still thinking about it: Jolin is afraid of being unable to control her emotions while singing it since the song is so meaningful to her.
More promo pictures have also been added, click on the picture below to access them!