The Tour will be back at Taipei Arena on December 22nd and 23rd! Jolin shot especially for these concerts a 90s introduction video called "A Fantasy MUSE image". There will also be a brand new stunt, a rotating pole. She started training before MUSE was released and had to stop to promote the album. Now she'll resume training.
Wu Tsing-Fong from Sodagreen who wrote Fantasy (lyrics only), Spying On You Behind The Fence and Color Photos attended the press conference. He gave Jolin a small telescope as a reference to the song Spying On You Behind The Fence.
Click on the picture below to access the photo album in the gallery!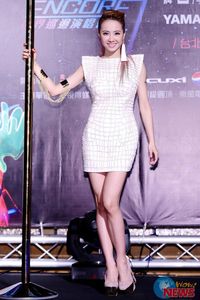 Myself World Tour Encore in Taipei digest