Today 200 lucky fans were able to see Jolin at Montreux Jazz Cafe (3rd floor of Harrods London)!
While she was at it before the event Jolin also visited Harrods and went shopping.
Small report by A (thank you ♥):
About the signing event, it was really cool! There were quite a lot of people and long lines while we were waiting but it was well organised. They weren't letting you take any pictures with Jolin by the time I got to see her but I know she took a few with some people at the beginning.

Jolin was really polite and looks just as pretty in real life (Of course lol) and it was really nice to be able to see her up close. I was a little starstruck so I didn't say much haha but it was still an awesome moment. Can't wait until tomorrow now!
Click on the picture below to access the photo album in the gallery.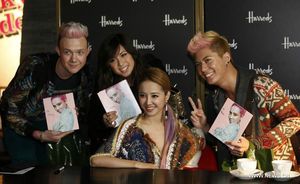 Jolin goes shopping in Harrods London