Jolin was in Show Luo's show today to promote MUSE!
In this video, you'll see among other things:
-> 大藝術家/Da Yi Shu Jia MV making
-> 大藝術家/Da Yi Shu Jia's promo CD
-> the Andy Whoohoo badge holder (it's huge!!)
---
As you know, 大藝術家/Da Yi Shu Jia's MV has been revealed today. An event has been held for that special occasion, the MV has been broadcast on a huge LED screen in Taipei! Passers-by and cars stopped to watch it. Jolin was there, pictures below!!
Click on the picture to access the photo album in the gallery.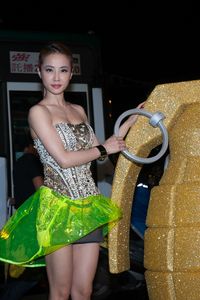 Don't forget to preorder MUSE HERE. Preorders have now officially started, the album will be released on September 14th.