I was like o_O when I saw this.
Sony is releasing a 2 CD + DVD best. The CDs include songs released by Jolin under Sony but also Universal (it seems that they bought the rights...). The first CD contains dance songs and the second one love songs. The DVD includes MVs and a live.
This is the 3rd best released by Sony after J-Top (2006) and Jolin's Final Wonderland (2007). It will be released on September 7th.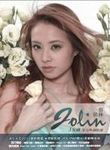 CD 1
1. 招牌動作/Zhao pai dong zuo/Signature gesture
2. 看我72變/Kan wo qi shi er bian/Magic
3. 野蠻遊戲/Ye man you xi
4. 愛情36計/Ai Qing San Shi Liu Ji/36 tricks of love
5. Prove it
6. OH OH
7. 睜一隻眼閉一隻眼/Zheng yi zhi yan bi yi zhi yan
8. 爆米花的味道/Bao mi hua de wei dao/Smell of the pop-corn
9. 海盜/Hai dao/Pirates
10. 騎士精神/Qi shi jing shen/Spirit of the knight
11. 布拉格廣場/Bu la ge guang chang
12. 許願池的希臘少女/Xu yuan chi de xi la shao nu
13. Love Love Love
14. 獨佔神話/Du zhan shen hua
15. Show Your Love
CD 2
1. 倒帶/Dao dai/Rewind
2. 天空/Tian kong
3. 做一天的你/Zuo yi tian de ni/Be you for a day
4. 檸檬草的味道/Ning meng cao de wei dao/The smell of lemon grass
5. 始作俑者/Shi zuo yong zhe/The Starter
6. 反覆記號/Fan fu ji hao
7. 酸甜/Suan tian
8. 說愛你/Shuo ai ni/Say I love you
9. 就是愛/Jiu Shi Ai/It's love
10. 好想你/Hao xiang ni
11. 單身公害/Dan shen gong hai
12. 什麼樣的愛/Shen me yang de ai/What kind of love
13. 怪我太年輕/Guai wo tai nian qing/Blame it on the age
14. 你怎麼連話都說不清楚/Ni zen mo lian hua dou shuo bu qing chu
15. 我知道你很難過/Wo zhi dao ni hen nan guo/I know you're feeling blue
DVD
1. 看我七十二變
2. 野蠻遊戲
3. 騎士精神
4. 布拉格廣場
5. 許願池的希臘少女
6. 說愛你
7. 天空
8. 我要的選擇
9. 倒帶
10. 騎士精神+海盜+看我七十二變 (Live)
EDIT: it's now available for preorder on YesAsia HERE.