The song's credits have been revealed on Weibo thanks to a picture of the promo single sent to radios.
The original title of Da Yi Shu Jia's demo is "Run This Club".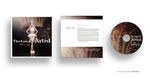 大藝術家/Da Yi Shu Jia/The Great Artist
Lyrics: Yan Yun Nong*
Composers/Producers: Robin Jenssen/Anna Judith Wik/Nermin Harambasic/Ronny Svendsen/Charlie Viken Reinas/Eirik Johanson/Aleksander Puntervold**
*He wrote lyrics for several Jolin songs such as 黑髮尤物/Hei Fa You Wu/Black-haired beautiful girl (Myself), 花蝴蝶/Hua Hudie/Butterfly (Butterfly, Jolin)... and he co-wrote 特務 J/Te Wu J/Agent J (Agent J).
**They are part of a Norwegian company called Dsign Music.