Jolin revealed today at this conference that preorders for the new album will begin at the end of August! This means that the album should be released by mid-September.
Click on the picture below to access the others.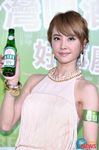 EDIT: you can see Taiwan Beer's new CF in this video.
---
Michael Lin, an arranger, posted a picture of himself and Jolin today on his Weibo. He arranged several songs for her like 非賣品/Fei Mai Pin/Priceless, 日不落/Ri Bu Luo/Sun Will Never Set or 台灣心跳聲/Taiwan xin tiao sheng/Taiwan Heartbeat.