Today was London 2012 Summer Olympics press conference in Taipei (the Chinese Taipei Olympic Committee is based in Taipei). Jolin will support Taiwan's champions. They expressed their gratitude towards their mother (it's some kind of campaign, you can see on the pics "Thank you, mom" on the wall) and Jolin was moved. Jolin said that she's very grateful to her mom, who's always supporting her in silence and has a great sense of humor regarding serious issues, she's her "spiritual pillar".
Jolin showed as well her skills at badminton (see videos and pics)!
Click on the pic to access the gallery.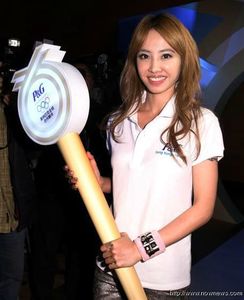 EDIT: Jolin won't be China's Ambassador but Taiwan's. On the Committee's wikipedia page, it was written "Republic of China" so I thought it was China, but it seems that it's another name for Taiwan >_< My bad and thanks to "a" for pointing this out! Sorry again!