She's one of the stars who are participating to this charity project for burn victims like Selina from S.H.E. This project started today and will end on October 4th.
1st part (09/05-09/14)
Lin Chi-ling
Ma Ying-jeou
Jolin Tsai
Blackie
Lin Yuzhi
Lin Li (famous Taiwanese stylist)
2nd part (09/15-09/24)
Aya aka Liu Hanya (Taiwanese host)
3rd part (09/25-10/04)
Xiaoyan Jie
Chen Han-tien
Richard Cheng (Selina Chen's fiance)
Jolin is giving a Hello Kitty plush! Her auction will end next week.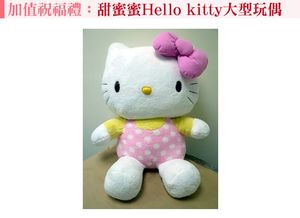 For more info about Sunshine Social Welfare Foundation check HERE (it's in English).