No videos yet, but we have pics. She sang 3 songs again, Honey Trap (美人計), Real hurt (小傷口) & Sun Will Never Set (日不落)!
Click on the picture below to access the photo album.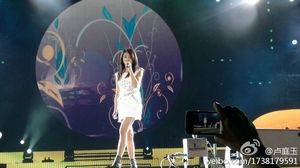 EDIT:
EDIT 2: In a show sponsored by Koobee on TV, they showed the Honey Trap performance from The Torch Festival. I love how the subtitles of the English lyrics are almost all wrong XD The editing of the performance really gives me a headache, you'll see.
Source video: Simon@jolin.info