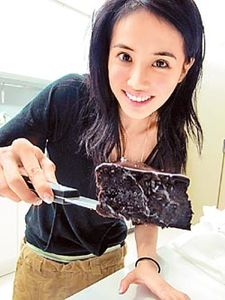 -Jolin's 1 month holiday is over, she came back to work on February 14th a.k.a Valentine's Day.
-Her sister Min Wen will give birth in April.
-Jolin is really into cooking right now (see pic). She wants to learn how to make bread.
-She will be at the Lantern Festival (闹元宵) on February 17th. According to reports, she will sing Honey Trap, Take immediate action & a classic song of hers.
-By the way, ShanMei0830 made me notice that Jolin needs our help for the Singapore e-Awards 2011! You can vote for her in the "Most popular video" category (Honey Trap MV), or in the "Most popular Female singer" category!