I wonder if it's the cover or a pic from the booklet or the photobook?
Anyway Jolin ordered 6 sets of clothes from a Hong-Kong stylist named "Thomas", so all clothes will be original in the new shooting. Maybe for avoiding another controversy since she was accused of copying an Asian singer with Myself CD Only's cover...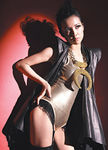 EDIT:
New promo pics!!
EDIT 2:
5 new promo pics again!!!