Jolin was on holiday this week since Warner gave her some days off for her birthday. And it seems that netizens spotted her in Tokyo, and not alone... She has been seen with Vivian Dawson (picture below, click to enlarge), the guy who played her boyfriend in Love Player (玩愛之徒) MV.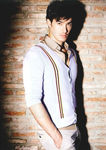 Rare enough, I found an article in English about it.

[Taiwanese Pop Princess Jolin Tsai was recently spotted taking in the sights and sounds of Tokyo with a Singaporean male
Eurasian model Vivian Dawson is one lucky guy.
The "tall and hunky" stylish man, whose identity was uncovered by netizens, was recently sighted touring parts of Tokyo with Jolin Tsai. The New Zealand model was also the male lead in Jolin's latest MV for 'Love Player'.
According to sources, they flew to Tokyo together without the accompaniment of Jolin's entourage. It was said to be an intimate affair for the pair as they toured the city on their own.
The voluptuous Mandopop starlet reportedly traveled via business class to Tokyo on September 12 and was seated apart from Vivian, who flew economy.

The unsuspecting Jolin let her guard down once they arrived in Japan and the lovebirds was seen holding hands after collecting their respective baggage.

One of CLEO's most eligible bachelors in 2009, Vivian grew up in New Zealand and is equipped with minimal conversational skills in Mandarin.
The 1.89m-tall Vivian once told his friends that he preferred Asian women over blonde babes and has no problems communicating with Jolin, who majored in English Literature at Fu Jen Catholic University.]
Source: xinmsn.com
I hope it's true, because if it is we won't hear Jolin complain about her being single anymore XD