Jolin will turn 30 on September 15th (Wednesday) but she already had her birthday party at a nightclub called STRIKE! Only her closest friends were invited, her sister Min-Wen was there as well with her husband. Show Luo, Maggie were there among others.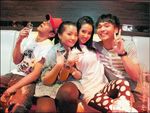 Jolin with her friends (Show Luo is on the left)



Her sister Min-Wen with her husband

Show Luo gave Jolin a Rolex watch, Maggie Louis Vuitton high heels, and Ze-Shan a Cartier bracelet.