Jolin's sister wedding was today and Jolin was her bridesmaid!

She sang Accompany with me (我的依赖) from the album Butterfly for her sister, Cai Min-Wen (Jo) & her brother-in-law (Jerry).
She posted pictures of her on her official Weibo & her Twitter (on the second pic she's with Maggie, a friend of hers who is a singer as well):

And a picture posted by Jolin's manager, he said that her performance of Accompany with me was very moving!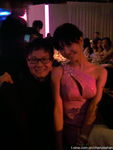 EDIT: Pictures from media this time
EDIT 2: her performance of Accompany with me is now available! Check this link:
http://www.wideo.fr/video/iLyROoaf8bMS.html
---
And 美人計 (Trick of the Beauty) will be revealed on Wednesday on Hit FM, between 9 and 12 a.m. It's possible to listen to it live thanks to this page: http://www.hitoradio.com/showtime/onair_2.php